15. ELS AMETLERS FLORIRAN
ARTIST: Daniel Padilla
WRITER: Elvira Cambrils
BOOK: "Ariadna Adormida"
YEAR: June, 2021
BOOK EXTRACT:
Els ametlers floriran cada hivern beurem el nostre vi…
Collirem tomàquets del bancal…
Les oliveres de Bèrnia ens donaran oli i els meus fills aprendran
a estimar la vall. I si l'estimen, pare, la protegiran.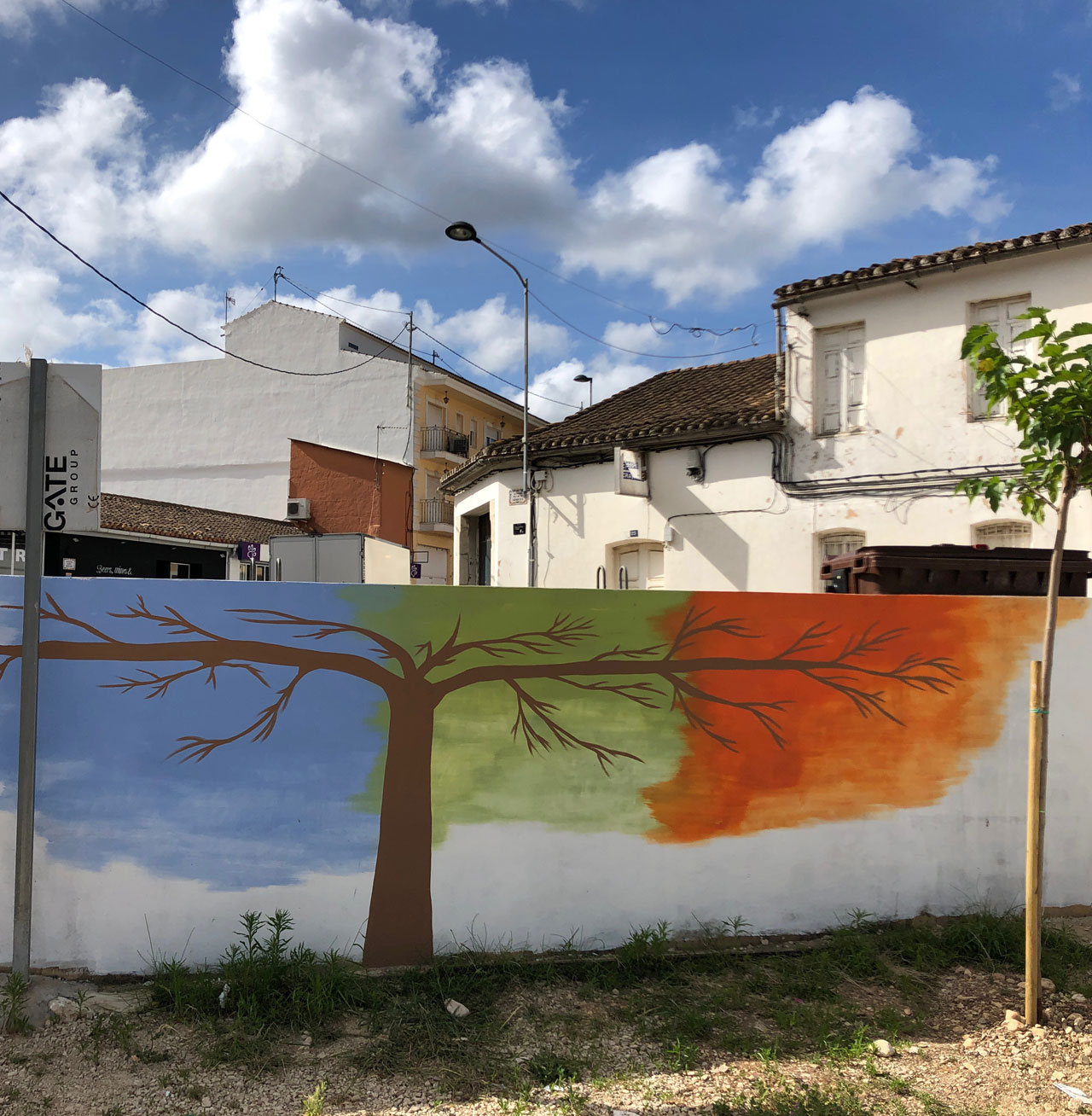 An artist from Colombia and universal graphic designer, he enjoys art in nature and in the simplicity of life. He is a lover of life and freedom.
These phrases belong to the book "Ariadnadormida" by Elvira Cambrils (Pego, 1955). It is a short story published in 2018 by the Fundació Bromera for the promotion of reading, within the campaign "Llegir en valencià. La nostra cuina "which, in this case, is dedicated to raisins. The narration explains the return of Ariadna, the protagonist, with her children in Xaló, her town of birth and where her family lives, to start a new life. Ariadna's plans, related to the recovery of raisin cultivation, will be a shock for her family and the community that surrounds her, but above all for herself.
Xaló, the area, the games, the landscape, bars and restaurants become the framework of the story; and especially the agricultural task par excellence in the town: the cultivation of the Muscat grape of Alexandria, now essentially to make wine, and before to make  raisins.
A story that is linked to the rest of Elvira Cambrils's work due to its vital optimism, the importance of second chances or those referring to classical Greco-Roman culture (look at the title).
OTHER EXTRACTS OF THE NARRATION
"La casa pairal amb la naia blanca i el riurau, el sequer amb la vinya, el pouet, el garrofer centenari i el campanar que vigila els sarments de la vall de Pop serien la nostra llar"
"El pensament es va omplir de sarments verds, la joia dels meus fills, raïms groguencs que es tacaven de puntets marrons i el cant de les xitxarres."
"A la nit vaig somiar que era una pansa d'Alexandria, entrava a un temple i expandia la meua dolçor de llima i mel en espirals de vida"
ELS AMETLERS FLORIRAN
THE MURAL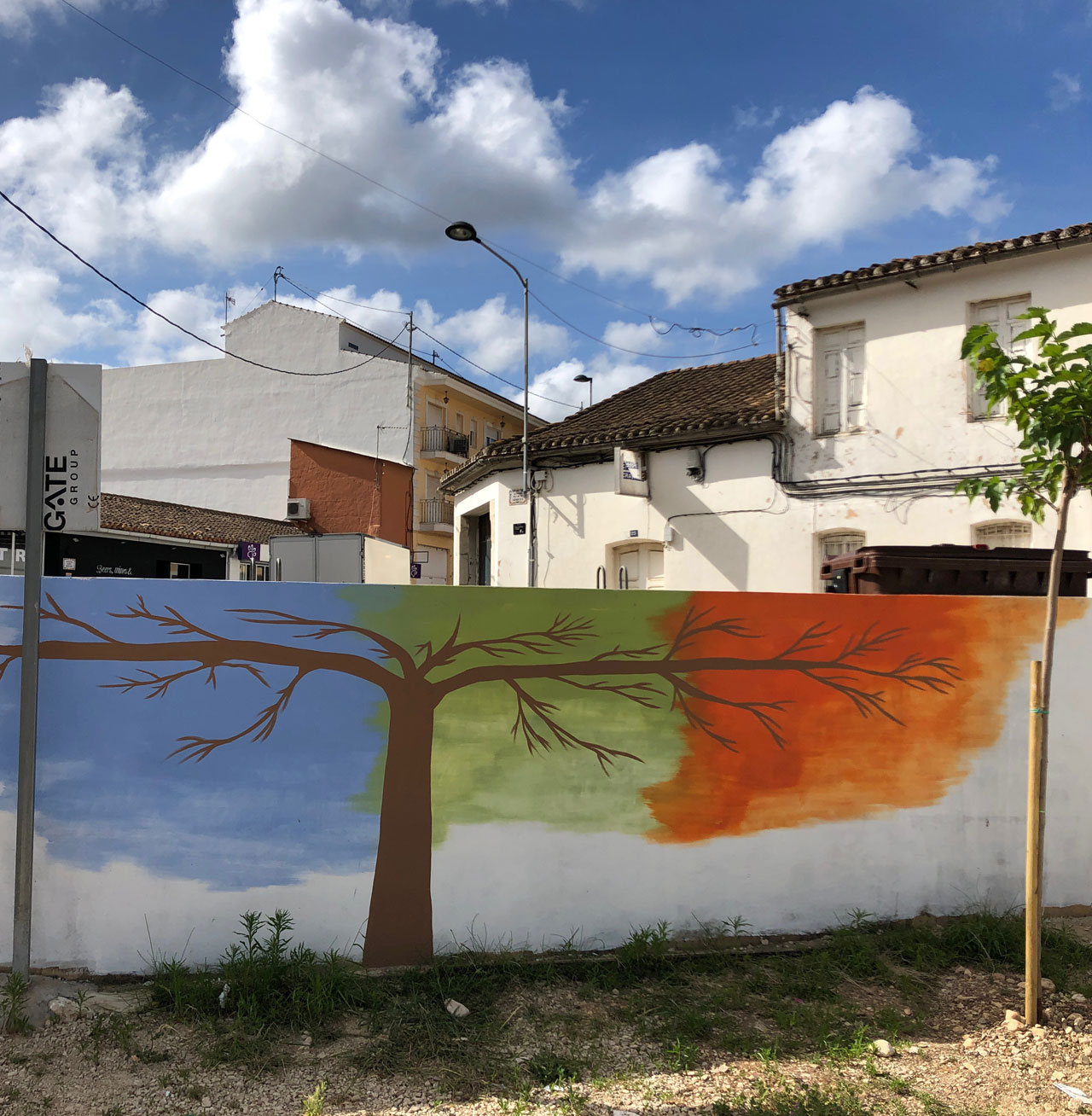 ELS AMETLERS FLORIRAN
POETIC WALK THROUGH THE STREETS OF XALÓ
Current Location (On Map)
15. Els ametlers floriran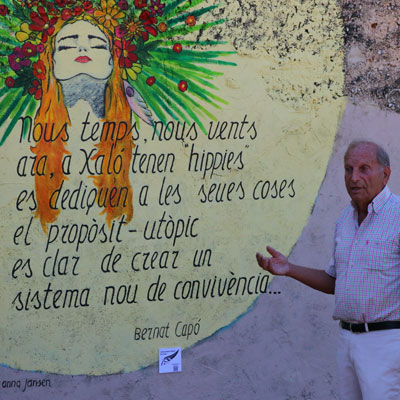 16. Nous temps, nous vents
ARTIST: Anna Jansen
WRITER: Bernat Capó
BOOK: "Espigolant pel rostoll morisc"
YEAR: October, 2019
VISIT US
Tourist Info Vall de Pop
966 48 05 22
TIMETABLETOURIST INFO
TUE-SAT: 09:00 a 13:00h.