9. Vientos del pueblo
ARTIST: Daniel Padilla
WRITER: Miguel Hernández
POEM: "Vientos del pueblo me llevan"
YEAR: May, 2021
POEM EXTRACT:
"Vientos del pueblo me llevan,
vientos del pueblome arrastran,
me esparcen el corazón
y me aventan la garganta"
An artist from Colombia and universal graphic designer, he enjoys art in nature and in the simplicity of life. He is a lover of life and freedom.
Miguel HernándezGilabert (Orihuela, October 30, 1910 – Alicante, March 28, 1942). Spanish poet and dramatist.
From a humble family, he has to leave school very early to go to work; even so he develops his capacity for poetry thanks to being a great reader of classical Spanish poetry. He was part of the literary gathering in Orihuela, where he met Ramón Sijé and established a great friendship with him.
From 1930 he began to publish his poetry in magazines such as "El Pueblo de Orihuela" or "El Día de Alicante". In the 1930s he travelled to Madrid and collaborated in different publications, establishing a relationship with the poets of the time. On his return to Orihuela he wrote "Perito en Lunas" (1933), which reflects the influence of the authors he read in his childhood and those he met on his trip to Madrid.
Already established in Madrid, he worked as an editor in the "El Cossío" bullfighting dictionary and in the pedagogical missions of Alejandro Casona; he also collaborated in important Spanish poetic magazines. During these years, he wrote the poems "El silboviorado" (1934), "Imagen de tu sombra" (1934), and the best known: "El Rayo que no cesa" (1936).
He took a very active part in the Spanish Civil War, and when it ended he tried to leave the country but was arrested on the border with Portugal. Sentenced to the death penalty, it was converted to thirty years in prison, but he failed to serve it because he died of tuberculosis on March 28, 1942 in Alicante prison.
During the war, he composed "Viento del pueblo" (1937) and "El hombre acacha" (1938) with a style that became known as "war poetry". In jail he finished"Cancionero y romancero de ausencias" (1938-1941). In his work there are influences from Garcilaso, Góngora, Quevedo and San Juan de la Cruz.
VIENTOS DEL PUEBLO ME LLEVAN
Vientos del pueblo me llevan,
vientos del pueblo me arrastran,
me esparcen el corazón
y me aventan la garganta.
Los bueyes doblan la frente,
impotentemente mansa,
delante de los castigos:
los leones la levantan
y al mismo tiempo castigan
con su clamorosa zarpa.
No soy un de pueblo de bueyes,
que soy de un pueblo que embargan
yacimientos de leones,
desfiladeros de águilas
y cordilleras de toros
con el orgullo en el asta.
Nunca medraron los bueyes
en los páramos de España.
¿Quién habló de echar un yugo
sobre el cuello de esta raza?
¿Quién ha puesto al huracán
jamás ni yugos ni trabas,
ni quién al rayo detuvo
prisionero en una jaula?
Asturianos de braveza,
vascos de piedra blindada,
valencianos de alegría
y castellanos de alma,
labrados como la tierra
y airosos como las alas;
andaluces de relámpagos,
nacidos entre guitarras
y forjados en los yunques
torrenciales de las lágrimas;
extremeños de centeno,
gallegos de lluvia y calma,
catalanes de firmeza,
aragoneses de casta,
murcianos de dinamita
frutalmente propagada,
leoneses, navarros, dueños
del hambre, el sudor y el hacha,
reyes de la minería,
señores de la labranza,
hombres que entre las raíces,
como raíces gallardas,
vais de la vida a la muerte,
vais de la nada a la nada:
yugos os quieren poner
gentes de la hierba mala,
yugos que habéis de dejar
rotos sobre sus espaldas.
Crepúsculo de los bueyes
está despuntando el alba.
Los bueyes mueren vestidos
de humildad y olor de cuadra;
las águilas, los leones
y los toros de arrogancia,
y detrás de ellos, el cielo
ni se enturbia ni se acaba.
La agonía de los bueyes
tiene pequeña la cara,
la del animal varón
toda la creación agranda.
Si me muero, que me muera
con la cabeza muy alta.
Muerto y veinte veces muerto,
la boca contra la grama,
tendré apretados los dientes
y decidida la barba.
Cantando espero a la muerte,
que hay ruiseñores que cantan
encima de los fusiles
y en medio de las batallas.
VIENTOS DEL PUEBLO
THE MURAL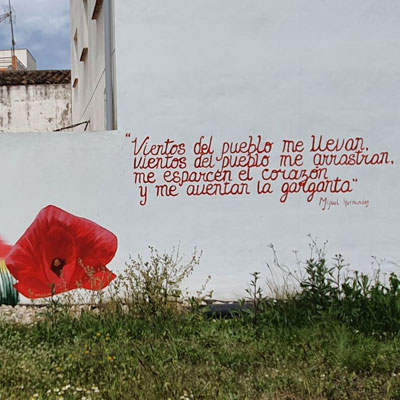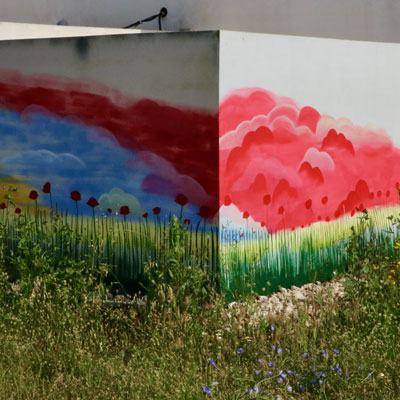 vientos del pueblo
POETIC WALK THROUGH THE STREETS OF XALÓ
Current Location (On Map)
9. Vientos del pueblo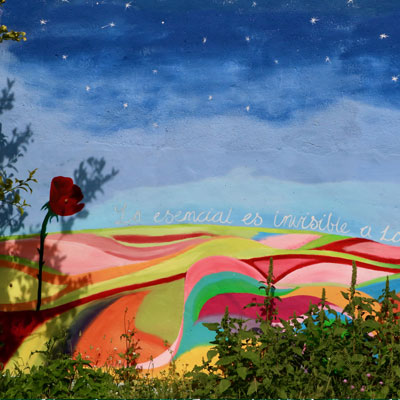 10. Lo esencial es
ARTISTS: Isabel Soler i Daniel Padilla
WRITER: Antoine de Saint-Exupéry
BOOK: "El Principito"
YEAR: March, 2021
VISIT US
Tourist Info Vall de Pop
966 48 05 22
TIMETABLETOURIST INFO
TUE-SAT: 09:00 a 13:00h.