6. La Bailarina
ARTIST: Daniel Padilla
WRITER: Jean Lorrain
YEAR: March, 2021
SENTENCE:
"Une fleur de rêve surgit des tenebres"
An artist from Colombia and universal graphic designer, he enjoys art in nature and in the simplicity of life. He is a lover of life and freedom.
Jean Lorrain is the pseudonym of Paul Alexandre Martin Duval (Fécamp, August 9, 1855 – Paris, June 30, 1906) French writer of the Symbolist movement.
Lorrain was well known for his decadent poetry and prose, being a regular in Parisian bohemian life at the end of the 19th century. Lorrain published in numerous magazines such as "Le Chat Noir" or "Le Décadent" and his fantastic stories were very well received.
Defender of dandyism and born provocateur, Lorrain did not hide his homosexuality, something that did not prevent him from being a member of the Goncourt Academy. His reference to the novel was in 1897 with the critically acclaimed "Monsieur de Bougrelon."
Loïe Fuller is the dancer who reinvented contemporary dance. From a very young age she wanted to be an artist and managed to become a revolutionary in the artistic and scientific environment of the early 20th century. American Loïe Fuller was a dancer, choreographer, inventor, artistic illuminator, writer, model, producer, and actress. A woman admired by painters, sculptors, filmmakers, and scientists.
The writer Jean Lorrain was inspired by her figure to write the phrase for this mural.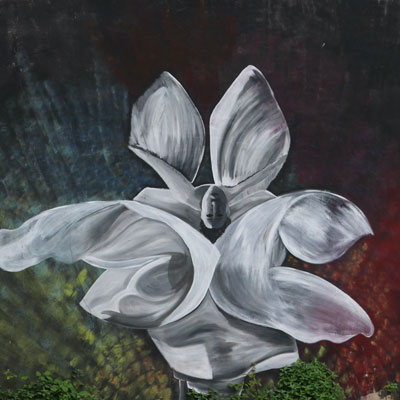 LA BAILARINA
POETIC WALK THROUGH THE STREETS OF XALÓ
Current Location (On Map)
6. La Bailarina
7. Tu ets gavina
ARTIST: Daniel Padilla
WRITER: Just I. Sellés
POEM: "Terra"
YEAR: October, 2020
VISIT US
Tourist Info Vall de Pop
966 48 05 22
TIMETABLETOURIST INFO
TUE-SAT: 09:00 a 13:00h.