10. Lo esencial es
ARTISTS: Isabel Soler i Daniel Padilla
WRITER: Antoine de Saint-Exupéry
BOOK: "El principito"
YEAR: March, 2021
Sentence:
"Lo esencial es invisible a los ojos"
Degree in fine arts. Master in Arteràpia.
"For many years I have been interested in art as a tool for expression, transformation and help. These murals make it possible to improve the lives of the people who walk through the streets of this town, in addition to promoting culture "
An artist from Colombia and universal graphic designer, he enjoys art in nature and in the simplicity of life. He is a lover of life and freedom.
WRITER
ANTOINE DE SAINT-EXUPERY
Antoine de Saint-Exupéry (1900-1944)
On June 29, 1900, the French novelist and aviator Antoine de Saint-Exupéry was born. From a very young age, he showed interest in aviation and learned the trade when he served in the military.In 1926 he published his first short novel "The Aviator" and obtained a contract as a pilot for a private agency. He served as chief of an air station in the Spanish Sahara and in this period he wrote his second novel, "Correo del Sur" (1929). In the 1930s he made film adaptations and other activities.He travelled to Moscow and Spain besieged by war, and wrote reports and articles for various magazines. He was also part of the French aviation missions during World War II. Later he was in New York from where he compiled the anecdotes of "War Pilot" (1942).On April 6, 1943, his masterpiece, "The Little Prince" was listed as one of the best literary creations of the 20th century. It has also been translated into 250 languages ​​and, recently, into the Aymara language.On July 31, 1944, the writer made a reconnaissance flight aboard a Lockheed Lightning P-38 and disappeared in the Mediterranean. His body was never found.
"Go see the roses; You will understand that yours is unique in the world. You will return to say goodbye to me again and I will give you a secret.
The little prince went to see the roses to which he said:
"They are nothing, nor do they resemble my rose at all." No one has domesticated them and you have not domesticated anyone. They are like the fox was before, that in no way differed from a hundred thousand other foxes. But I made him my friend and now he is unique in the world.
The roses were annoyed when they heard the little prince, who continued to tell them:
"They are very beautiful, but they are empty and no one would give their lives for you." Anyone who sees them can undoubtedly believe that my rose is just like any of you. But she knows herself more important than all, because I have watered her, because it was her that I sheltered with the lantern, because I killed the worms (except for two or three that became butterflies) and it is her that I have heard complain, praise and sometimes even shut up. Because it's my rose, anyway.
And he returned with the fox.
"Goodbye," he said.
"Goodbye," said the fox. Here is my secret, which could not be simpler: only with the heart can one see well; The essential is invisible to the eyes.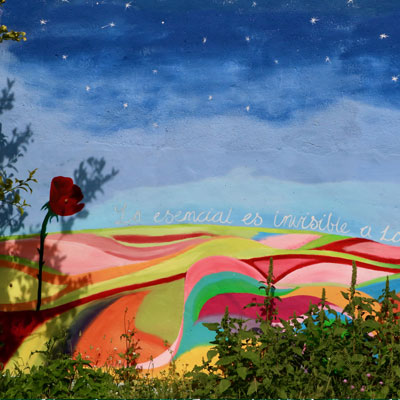 LO ESENCIAL ES
POETIC WALK THROUGH THE STREETS OF XALÓ
Current Location (On Map)
10. Lo esencial es
11. Bona nit, Bona nit
ARTISTS: Radhika Rabell & Rama
WRITER: Antònia Martínez
POEM: "Bona nit"
YEAR: September, 2019
VISIT US
Tourist Info Vall de Pop
966 48 05 22
TIMETABLETOURIST INFO
TUE-SAT: 09:00 a 13:00h.